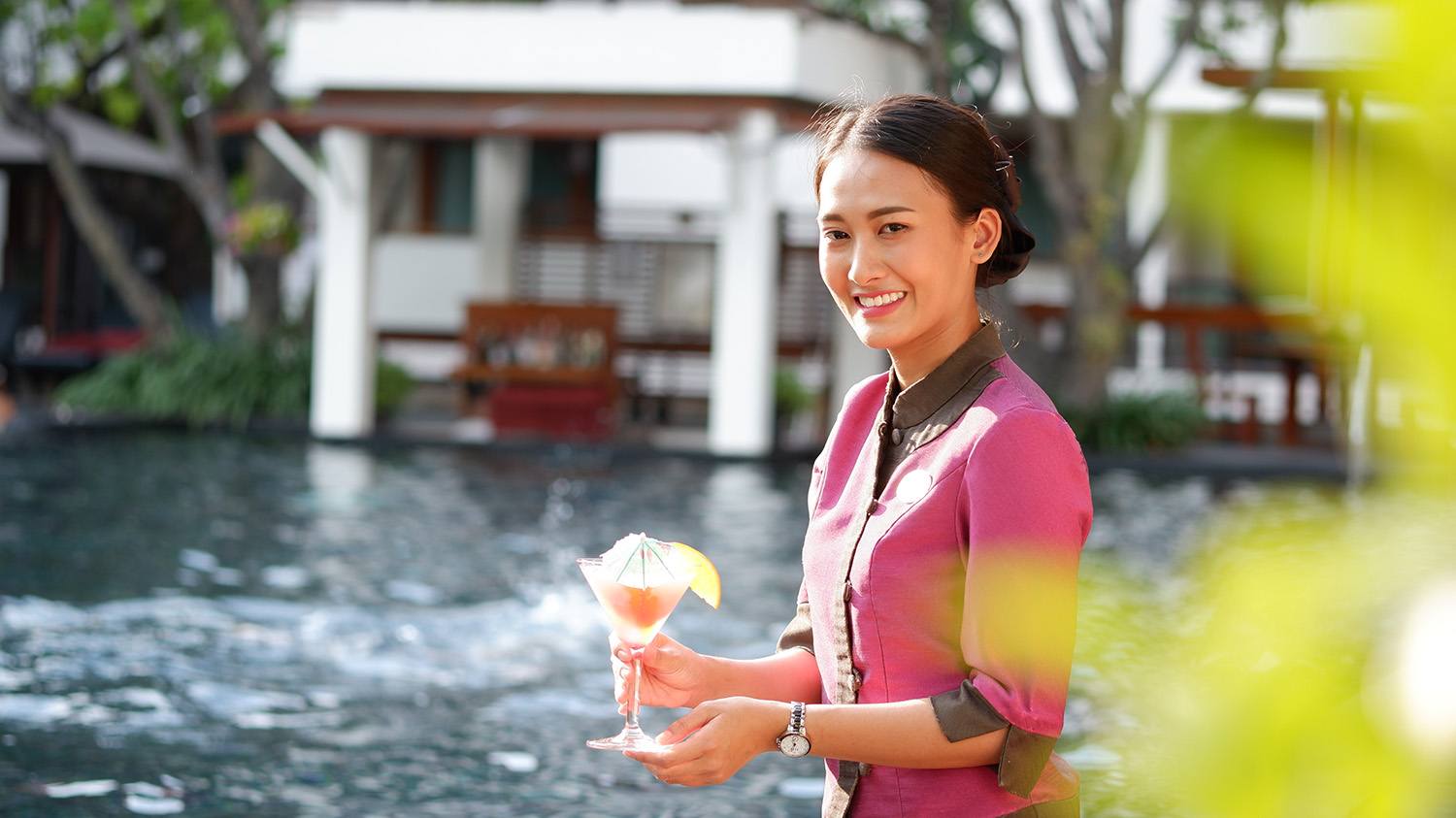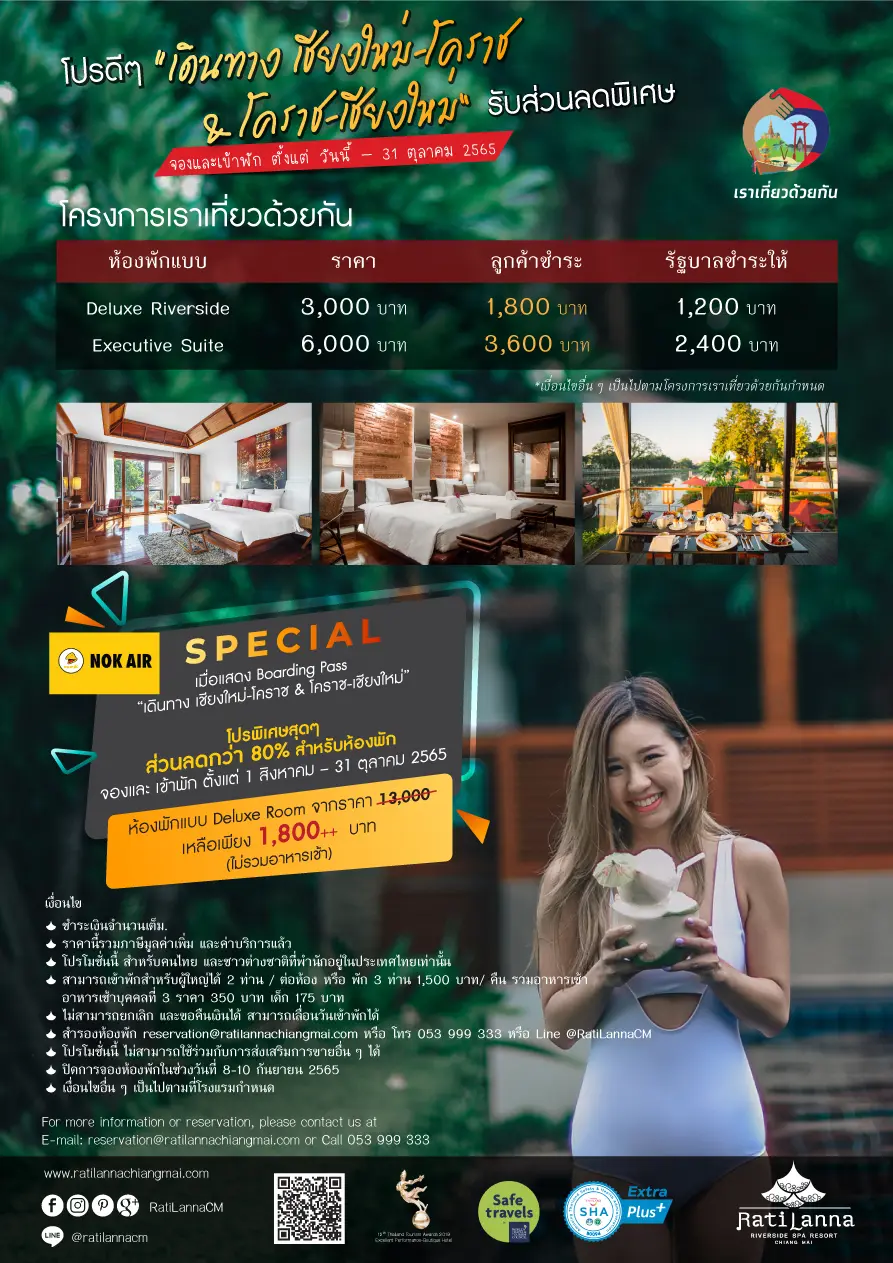 พิเศษเมื่อเดินทางกับนกแอร์เส้นทาง 
✈️ เชียงใหม่-นครราชสีมา & นครราชสีมา-เชียงใหม่ 
✨ รับสิทธิส่วนลดสูงถึง 80% เมื่อเข้าพักที่ RatiLanna Riverside Spa Resort, Chiang Mai 
📅 ตั้งแต่ 1 สิงหาคม - 31 ตุลาคม 2565 
✅ เพียงแสดง Boarding Pass 
✨รับส่วนลดห้องพักแบบ Deluxe Room จากราคา 13,000 เหลือเพียง 1,800++ บาท (ไม่รวมอาหารเช้า)
*เงื่อนไขเป็นไปตามที่บริษัทกำหนด
Cocktail of the month
AT RATILANNA RIVERSIDE SPA RESORT, CHIANG MAI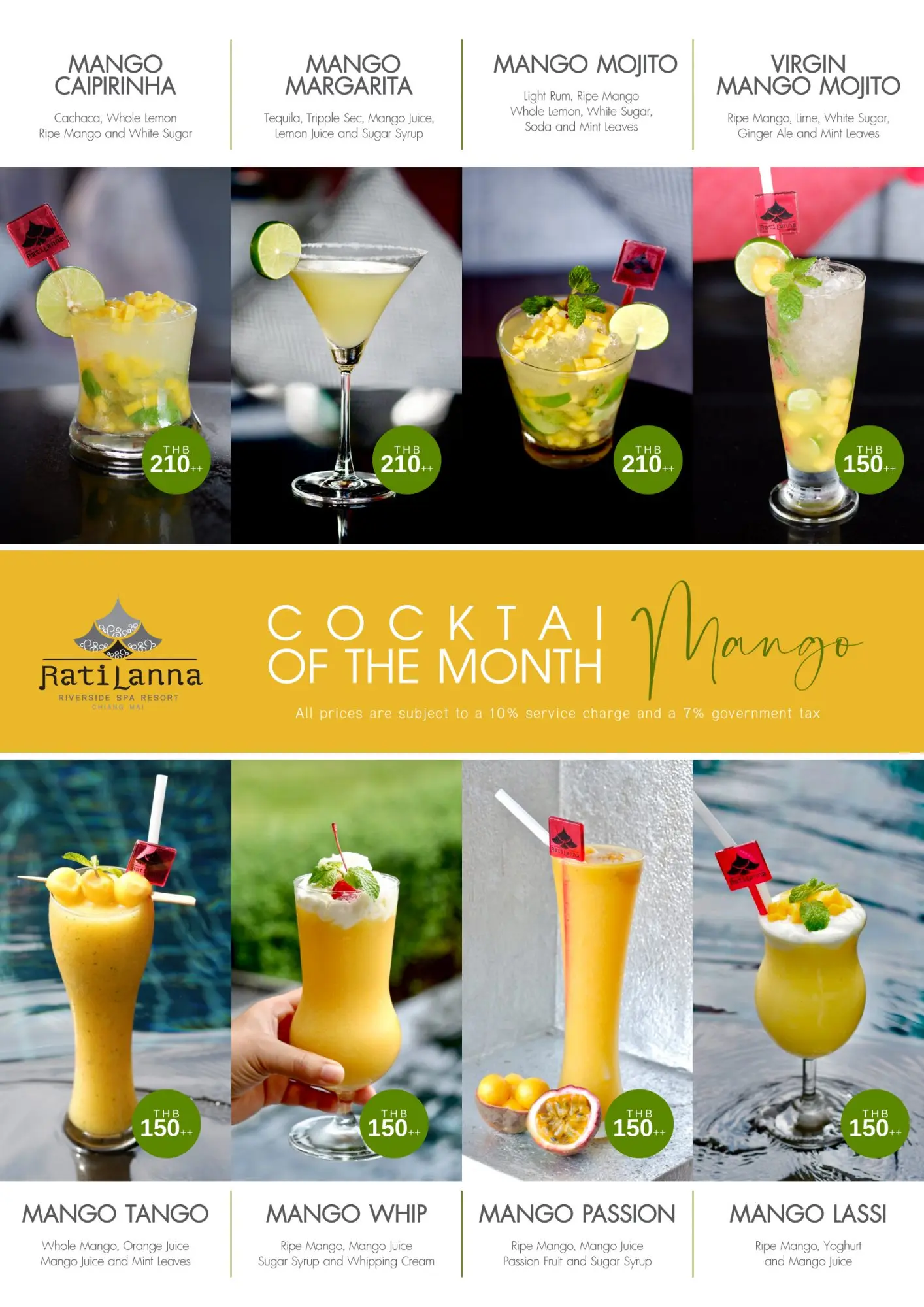 Cocktail of the month – Mango (mocktail and cocktail of the month) 
Summer นี้ สุดปัง! กับหน้าฤดู มะม่วง ฟีเวอร์ 
พบกับ Cocktail of the month promotion 2022 
เริ่มต้นเพียง 150++ บาท ต่อแก้ว โปรโมชั่น ตั้งแต่ วันนี้ - 31 ส.ค. 2565
RatiLanna Fitness Center Membership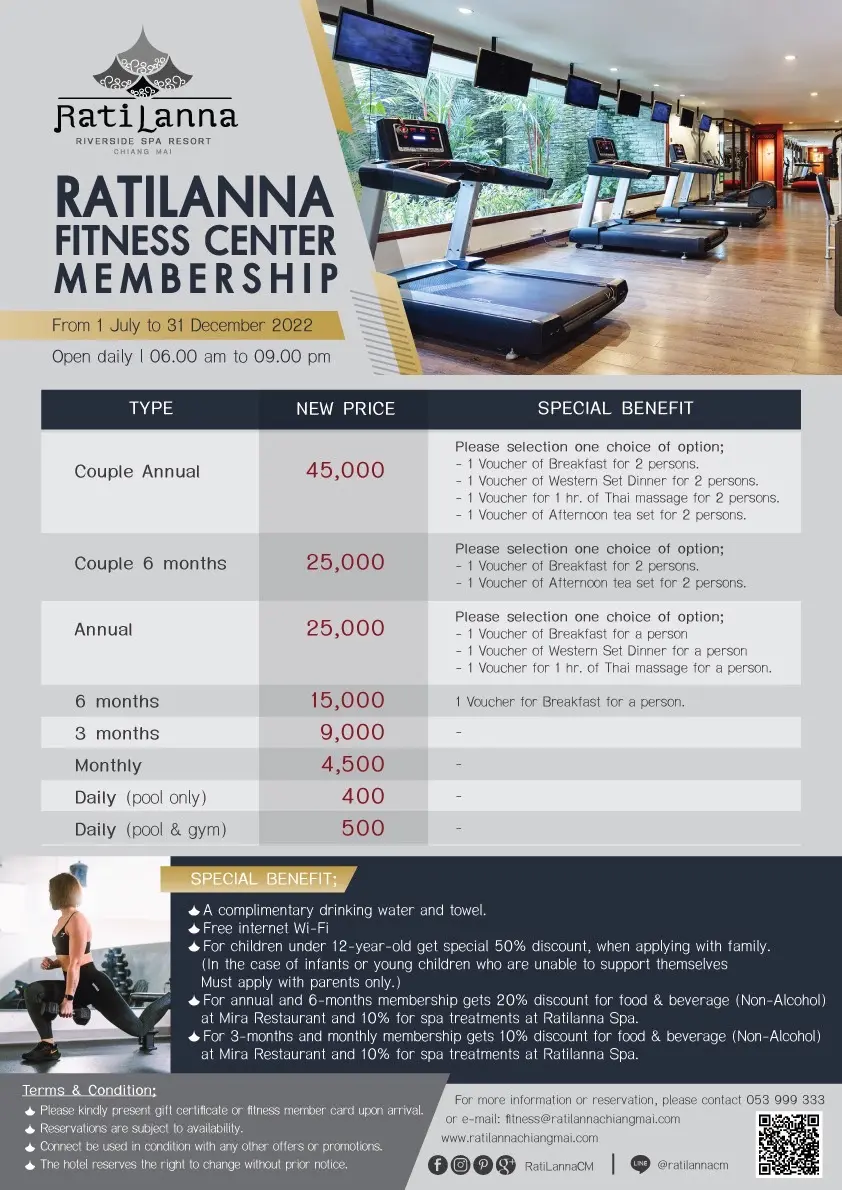 From 1 July to 31 December 2022 
Open daily from 6.00 am to 9.00 pm
Ninety Minutes A Glow 1.5 hrs. only at THB 1,590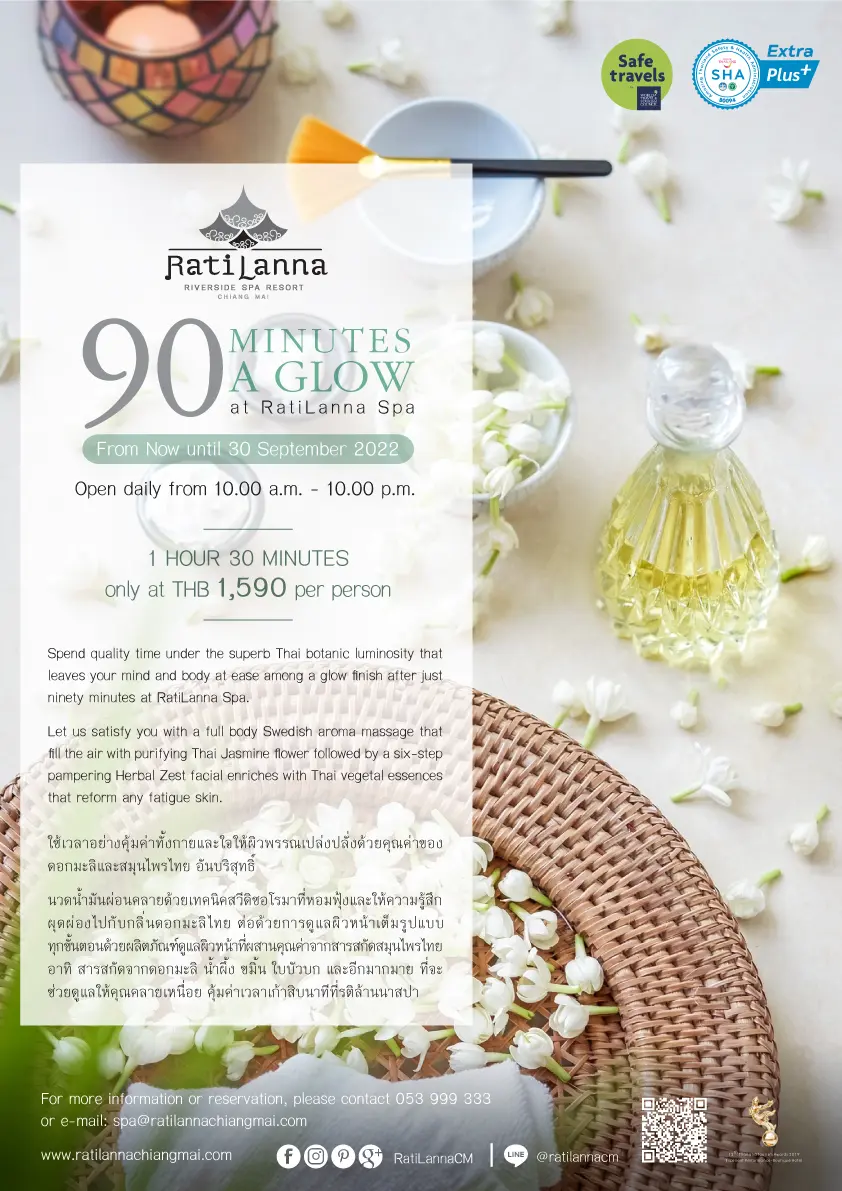 Spend quality time under the superb Thai botanic luminosity that leaves your mind and body at ease among a glow finish after just ninety minutes at RatiLanna Spa.
Let us satisfy you with a full body Swedish aroma massage that fill the air with purifying Thai Jasmine flower followed by a six-step pampering Herbal Zest facial enriches with Thai vegetal essences that reform any fatigue skin.
เพียง 90 นาที เพิ่มความออร่าเปล่าประกายในตัวคุณ ในราคาเพียง 1,590 บาท
ใช้เวลาอย่างมีคุณภาพภายใต้ความสดใส ในแบบพฤกษศาสตร์ของไทย ที่จะทำให้ร่างกายและจิตใจของคุณผ่อนคลาย ด้วยการเพิ่มความเปล่งปลั่งให้ผิวของคุณ โดยใช้เวลาเพียงเก้าสิบนาทีที่รติล้านนาสปา ด้วยการนวดเทคนิคแบบอโรมาแบบสวีดิชแบบเต็มรูปแบบ และด้วยกลิ่นหอมน้ำมันดอกมะลิไทยที่บริสุทธิ์ ตามด้วยการนวดหน้าแบบ Herbal Zest ในหกขั้นตอน เสริมคุณค่าด้วยสารสกัดจากพืชพรรณไทย ที่ช่วยปรับสภาพผิวที่อ่อนล้า ให้กลับมาเปล่งปลั่งมีชีวิตชีวาอีกครั้ง

รติล้านนา สปา เปิดให้บริการทุกวัน 
ตั้งแต่ 10.00 น. - 21.00 น. 
โปรโมชั่น ตั้งแต่ 1 มิถุนายน - 30 กันยายน 2565
Promotion Boat Creation 2022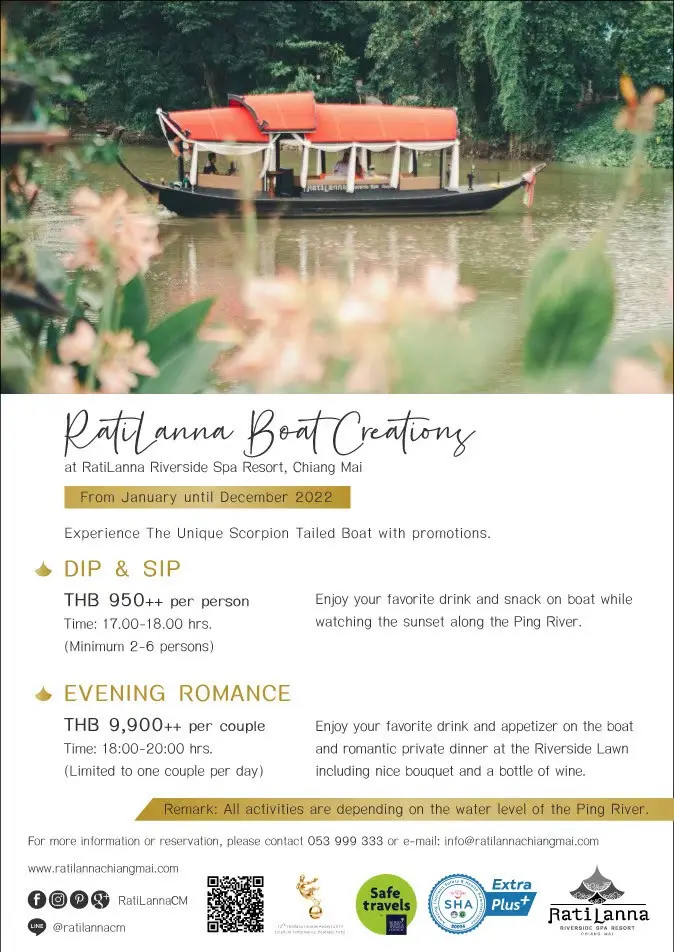 Promotion Loy Krathong Dinner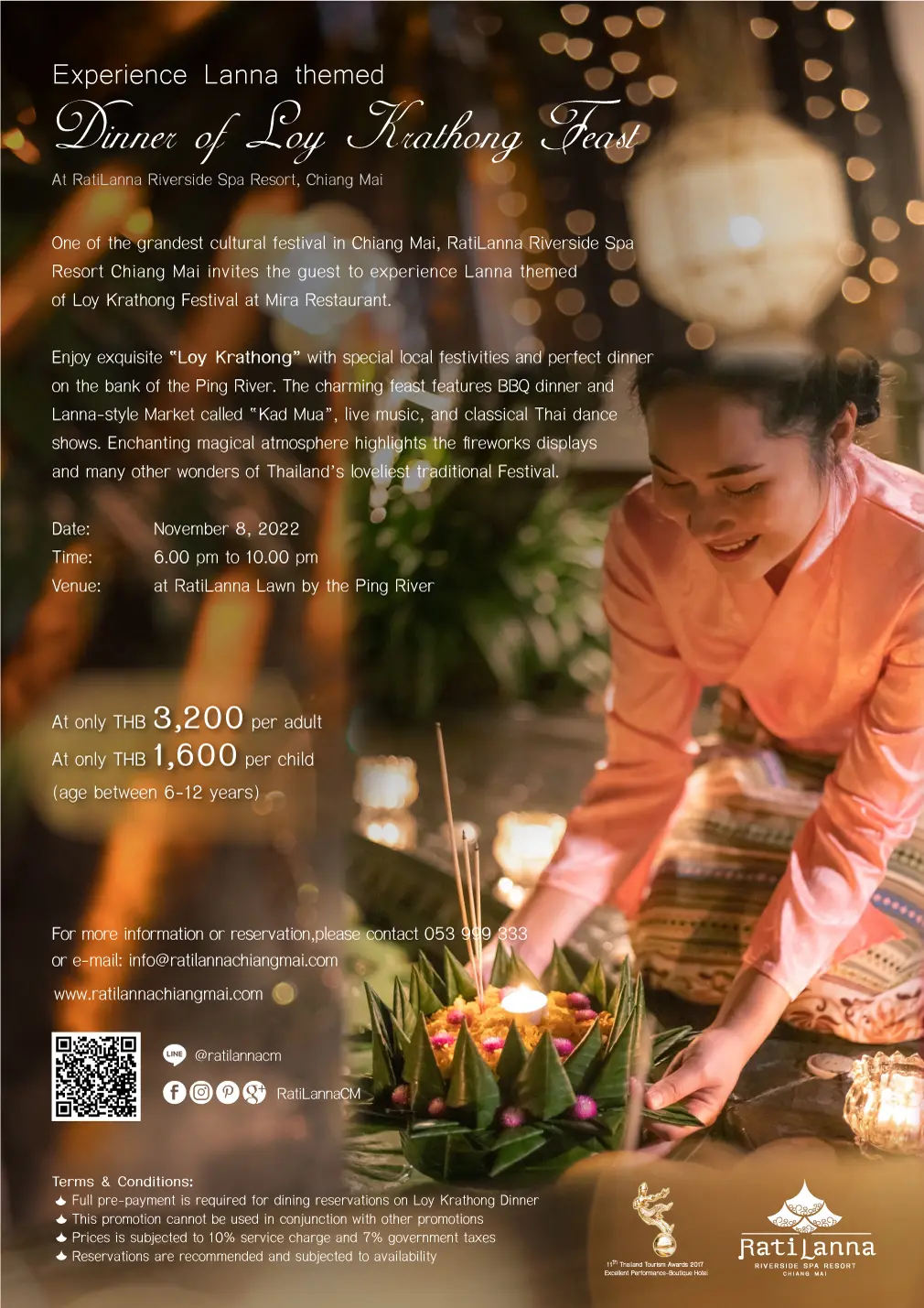 Experience Lanna themed Dinner of Loy Krathong Feast 
At RatiLanna Riverside Spa Resort, Chiang Mai
One of the grandest cultural festival in Chiang Mai, Ratilanna Riverside Spa Resort Chiang Mai invites the guest to experience Lanna themed of Loy Krathong Festival at Mira Restaurant.
Enjoy exquisite "Loy Krathong" with special local festivities and perfect dinner on the bank of the Ping River. The charming feast features BBQ dinner & Lanna-style Market called "Kad Mua", live music, and classical Thai dance shows. Enchanting magical atmosphere highlights the fireworks displays and many other wonders of Thailand's loveliest traditional Festival.
November 8, 2022
6.00 pm to 10.00 pm 
at RatiLanna Lawn by the Ping River
At only THB 3,200 per adult
At only THB 1,600 per child (age between 6-12 years)
For more information or reservation, please contact 053 999 333 or e-mail: info@ratilannachiangmai.com  or Line official: @RatiLannaCM
*Terms & Conditions:
• Full pre-payment is required for dining reservations on Loy Krathong Dinner
• This promotion cannot be used in conjunction with other promotions
• Prices is subjected to 10% service charge and 7% government taxes
• Reservations are recommended and subjected to availability
Spa promotion discount 50%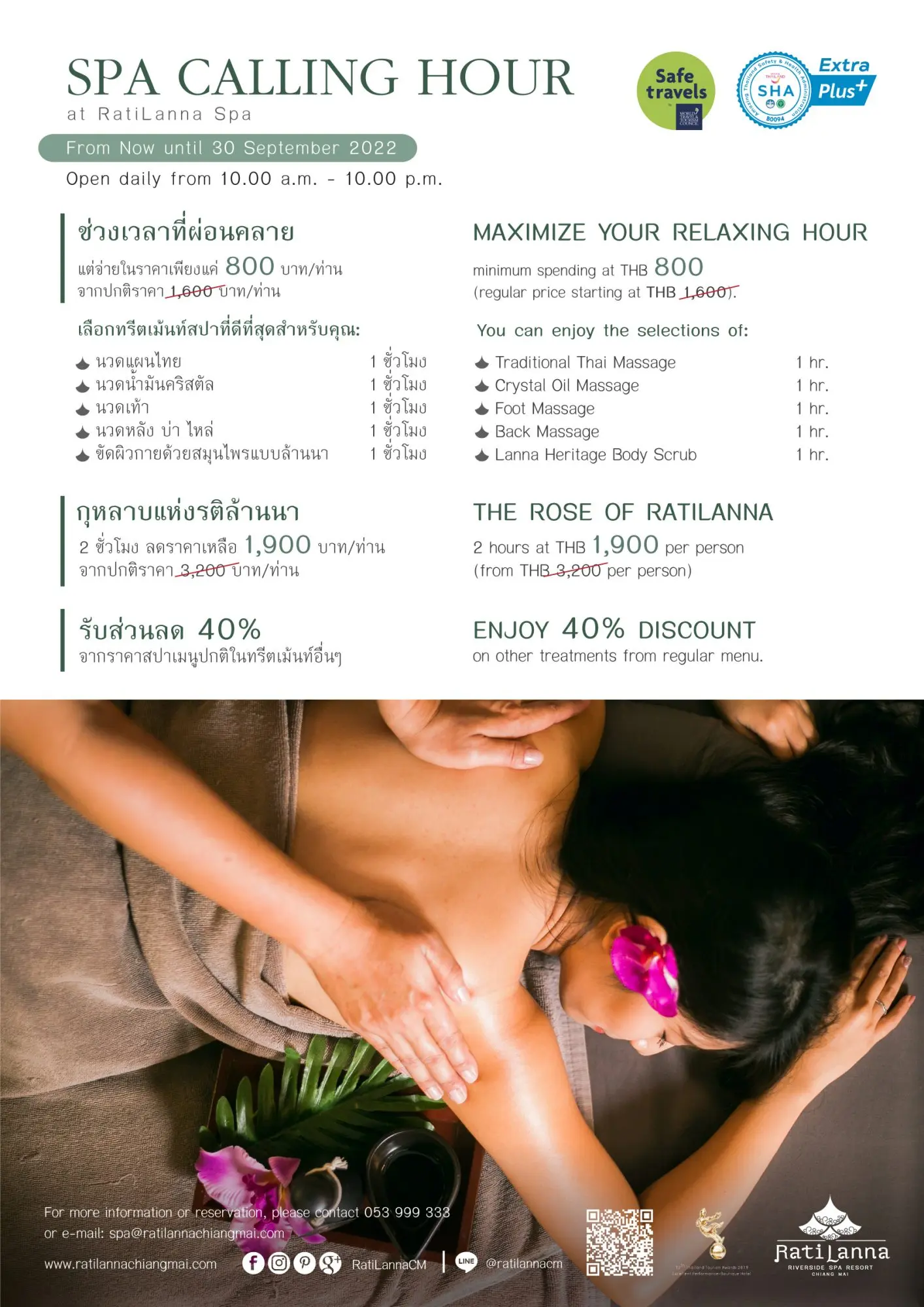 🌷 50% Spa Treatments at RatiLanna Spa
Promotion from now to 30 September 2022
Maximize your relaxing hour at a minimum spending at THB 800
(regular price starting at THB 1,600). You can enjoy the selections of:
• นวดแผนไทย 1 ชั่วโมง Traditional Thai Massage 1 hr.
• นวดน้ำมันคริสตัล 1 ชั่วโมง Crystal Oil Massage 1 hr.
• นวดเท้า 1 ชั่วโมง Foot Massage 1 hr.
• นวดหลัง บ่า ไหล่ 1 ชั่วโมง Back Massage 1 hr.
• ขัดผิวกายด้วยสมุนไพรแบบฉบับล้านนา 1 ชั่วโมง Lanna Heritage Body Scrub 1 hr.
📅 1-30 August, 2022
🕘 10:00 am – 10:00 pm
📍 https://goo.gl/maps/TfPfk9SLtbnyE9rF8
For more information or booking:
📞 Call 053 999 333
Spa promotion The Rose of RatiLanna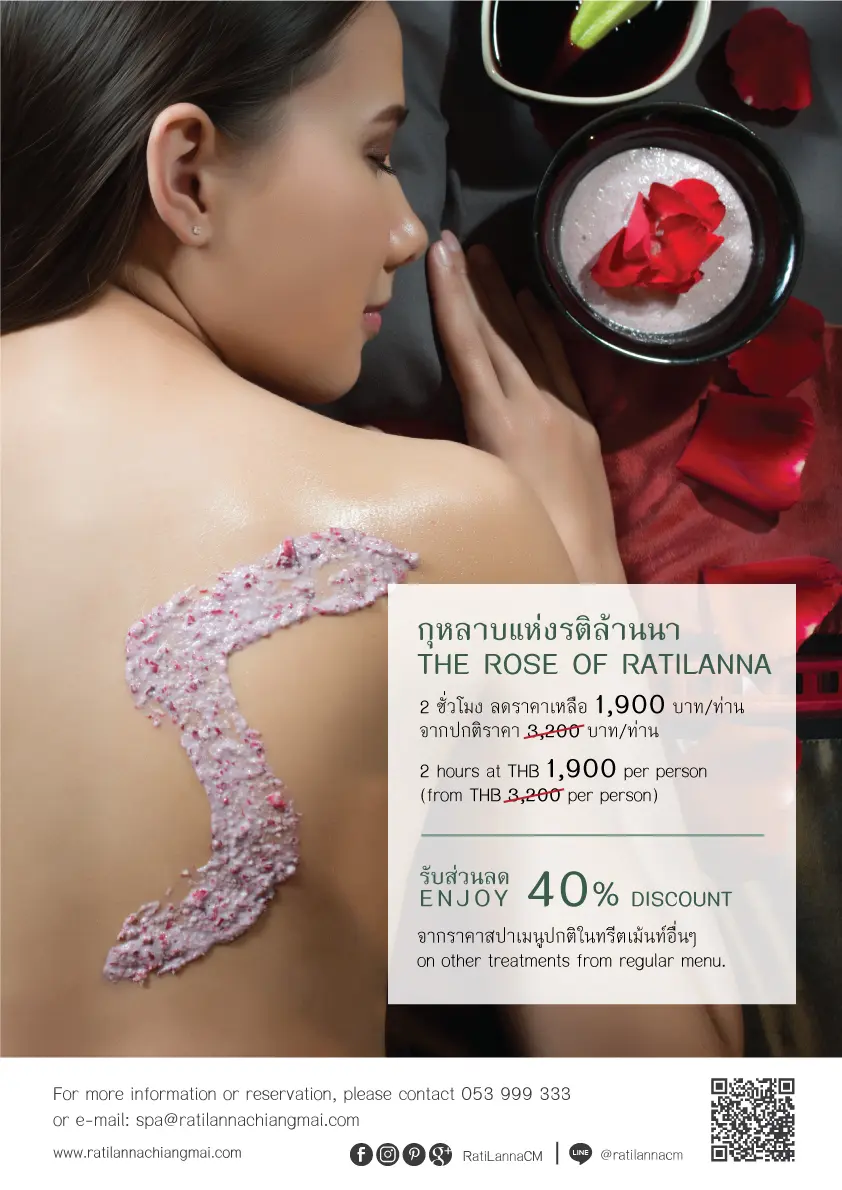 RATILANNA SPA SIGNATURE
The Rose of RatiLanna 2 hours
Promotion from now to 30 September 2022
Special discount 40%  from THB 3,200 to THB 1,900 per person.

Come to your senses while experiencing our passionate signature treatment.  The beautiful two-hour treatment begins with the herbal foot bath, followed by the roselle and rose scrub, rich of AHA and all body needed vitamins to brighten and moisturize the skin. The treatment continued with an aromatic warm rose oil massage to leave your whole body feeling totally pampered and with the benefits of improved blood circulation, relief from stress, it balances your body, mind and spirit.
Open daily from 10.00 am to 10.00 pm
For more information or reservation, please contact 053 999 333 or e-mail: spa@ratilannachiangmai.com
Available Daily 12:00 noon to 4:00 p.m.
Afternoon Tea
AT RATILANNA RIVERSIDE SPA RESORT, CHIANG MAI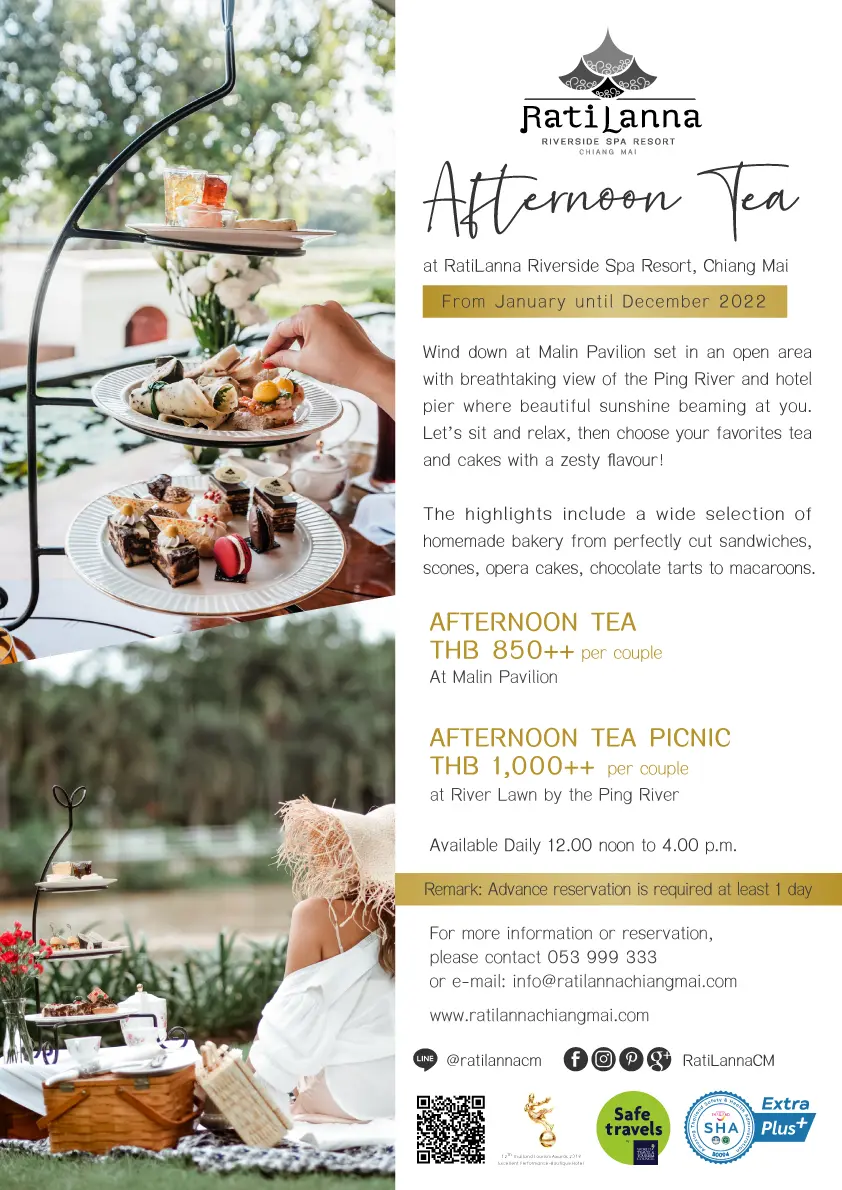 AFTERNOON TEA THB 850++
per couple @Malin Pavilion
AFTERNOON TEA PICNIC THB 1,000++
per couple @River Lawn by the Ping River
For more information or reservation,
or e-mail: info@ratilannachiangmai.com

enjoy your favorite drink and snack on boat while
watching the sunset along the Ping River.
Available daily from 6:00 pm to 10:30 pm
Enjoy A Night Of Exquisite 4 Courses
At Mira Restaurant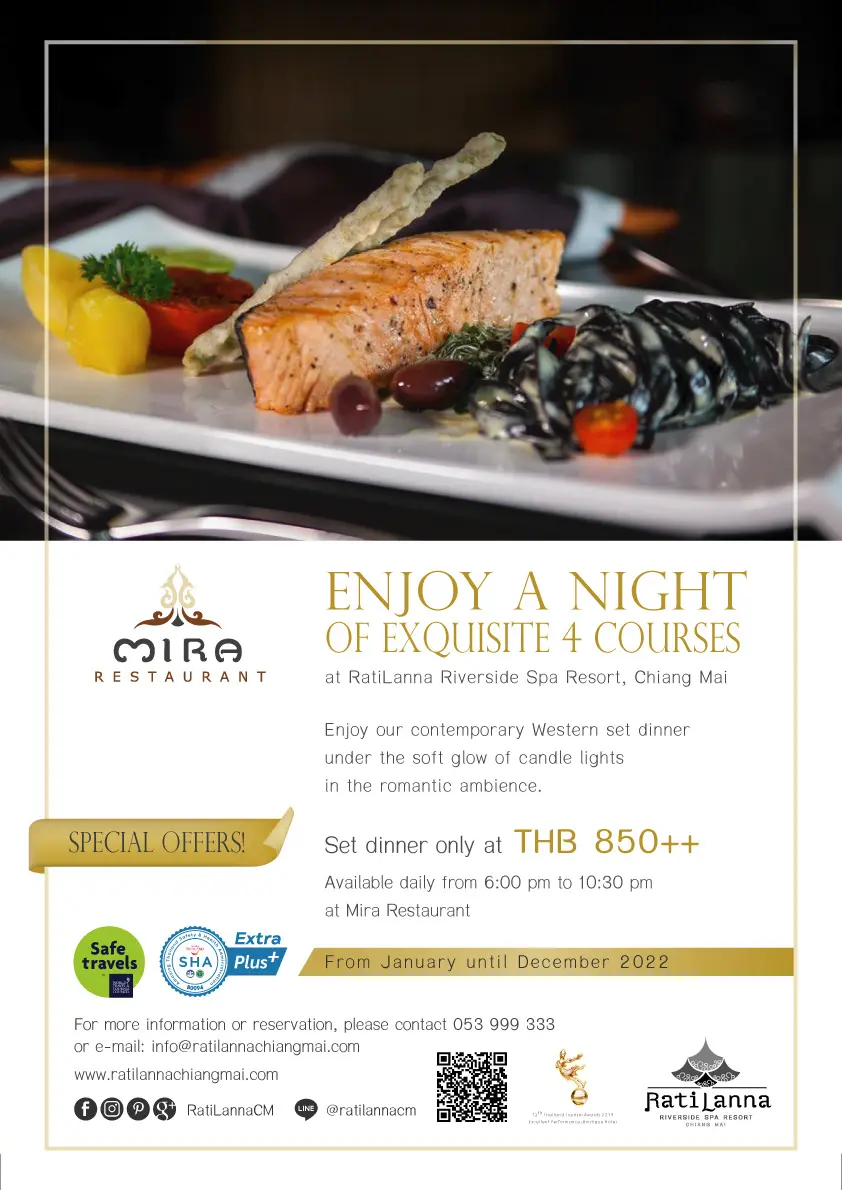 Set dinner only at THB 850++
Enjoy our contemporary Western set dinner under the soft glow of candle lights in the romantic ambience.
---